As you climb into the foothills of the North Georgia mountains, you know that you're headed toward heaven, and when you arrive at Camp Mikell, it is so beautiful that you know you've entered God's country!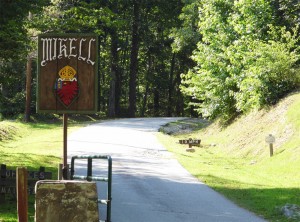 People come away to Mikell to breathe the country air, to meet in a quiet setting, to plan, to pray, to walk in the woods, to revitalize and renew friendships and working relationships. On a personal level, it's a setting where you can gain awareness of yourself, your place in the universe, and the radiance of God.
The Mikell Camp and Conference Center was established in 1941 by the Right Reverend Henry Judah Mikell, Bishop of Atlanta, as a setting for Christian education and recreation for young people. Over the years, it has developed into a year-round conference center serving people of all ages in the Diocese and its parishes, as well as other groups whose purposes complement our mission.
Since 1993, the Blue Ridge Outdoor Education Center, a program of Mikell, has offered hands-on environmental education for school classes, church groups and others. Mikell boasts beautiful creeks and trails, a boardwalk in a wetland, high and low ropes courses, a climbing tower, swimming pool, volleyball court, and nature center. In addition, we have a wonderful Chapel for worship and meditation.
Then there's the food! Mikell is known for its great country cooking, yet with an emphasis on a healthy balance of offerings including vegetarian options. Many of our weekend guests especially look forward to the homemade bread!
A Place for Retreats and Conferences
We have 243 beds as of 08/24/12, 79 are in Semi-Private rooms and 164 are in the dorms. Towels and linens are provided in the semi-private rooms. Guests need to bring their own towels and bed linens when staying in the Dormitories. We also offer large and small meeting areas, complete with easels and newsprint, A/V equipment and conference materials. To learn more, visit
Conferences and Retreats.
The sacristy in the Chapel is stocked for the Holy Eucharist with linens, vessels, elements, Book of Common Prayer and hymnals.