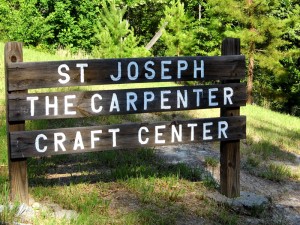 Thanks to the support of many individuals, parishes, the Mikell staff, the Diocese, and Mikell Camp and Conference Center is blessed with a wonderful art center. Bishop Allan and his wife, Elizabeth Allan conceived and helped develop the idea of the St. Joseph the Carpenter Art Center through their understanding and appreciation of art and creativity. Gary Bennett and the Men of Grace of Grace-Calvary, Clarkesville, were instrumental in the completion of this project.
This building has five "pods" specifically designed for art and are available to groups. Boy and Girl Scout groups, parish groups, youth groups, parish retreats, and any other group are invited to take advantage of this wonderful opportunity.
There is a "pod" specifically set up for woodturning with 8 lathes, a band saw, sander, scroll saws, drill press and other equipment. Our pottery "pod" has several wheels, a utility sink with hot and cold water, and a separate room with kilns.
The weaving "pod" has numerous looms of varying size. Stained glass, painting, and other forms of art are ideal for the remaining "pods." There are bathrooms and a coffee break room in the building.
The Art Center is located on a beautiful spot that overlooks the main campus of Mikell and has views of the surrounding ridges, including the cross.
We suggest that you include activities at the Art Center to add an exciting new dimension to your next retreat or even plan your retreat around this wonderful facility.
Additionally, The Mikell Folk School hosts 2 art weekends a year – a smaller one in October and a larger one in March with classes such as stained glass, pottery, woodturning, and copper enameling being offered. The Mikell folk school website is: www.mikellfolkschool.com.
Please contact Amanda at 706-886-7515 or amanda@campmikell.com to reserve your time at the Art Center. We will also be glad to arrange for art specific instructors for you.