Download the Camp Mikell Map
Download a map of Upper Camp
Download a map of Lower Camp
Established in 1941 and nestled in the midst of 460+ acres of the beautiful northeast Georgia mountains just outside of Toccoa, Georgia, Camp Mikell is the Camp and Conference Center of the Episcopal Diocese of Atlanta.
Lodging: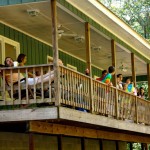 Our lodging facilities range from our Retreat Center rooms, which offer individual heat/ac, private baths, and two double beds, to our 13-bed Dorms with group bath. We also have Upper Cottages which offer a variety of floorplans. The Upper Cottages have shared bathrooms.
Dining: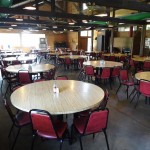 The food at Mikell is excellent!
Our Dining Hall, built in the early 1980s, can seat up to 200. For weekend conferences or retreats, we offer such entrees as pecan-crusted trout, roasted turkey, chicken, and beef, and a host of side dishes. Our salad bar is extensive and contains nearly 60 offerings. We also serve a full breakfast with meats, eggs, biscuits or pancakes, cereal bar, and plenty of coffee to wake up with. We stive to offer dietary balanced and healthy choices. Vegetarian options can also be made available.
Meeting Facilities:
We have two main areas for conferences and retreats.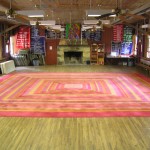 The ODH or Old Dining Hall (pictured left) was built in the 1940s. With its hardwood floors, ceiling that was painted during the 1960s and 1970s by past summer campers and staffers, large stone fire place, and stage, the ODH offers a warm and rustic meeting area for large groups. The ODH is located in the middle of main camp.
For a more modern surrounding, we have a conference center built in 2002 that is located in a bend on Little Toccoa Creek. Inside, you will find a large meeting area that can be divided in half, coffee bar, refrigerator, tables and chairs, media equipment, two private bathrooms, and a large stone fireplace. Outside, a large wrap-around porch with an outside fireplace area and a covered area with ceiling fans and rocking chairs greets you. This beautiful and relaxing area is located in our Bishop Child Retreat Center.
Walthour is in the main building where the offices and lobby are located. This room is suitable for medium sized groups of around 50 people.
We can assist you by setting up your meeting space with most any arrangement of tables and chairs that you request. In addition, we can supply easels and markers, a TV with DVD/VCR player, and for a nominal usage fee, a digital projector. Contact Amanda at info@campmikell.com for more general information or to make your reservations today!